The Thermo Scientific™ Nicolet™ RaptIR™ FTIR Microscope offers precision and agility to help streamline sample analysis by quickly generating actionable results. Homing in on the intricacies of a sample to find the answer you need is often a lengthy and difficult process. Any amount of time saved while searching for the solution makes a world of difference in delivering results. This research-grade microscope is not only adaptable for all users but also across industries. The objectives, infrared capability, and clear images are useful in fields of study as diverse as pharmaceutical, environmental, forensics, art restoration, polymers, and materials research.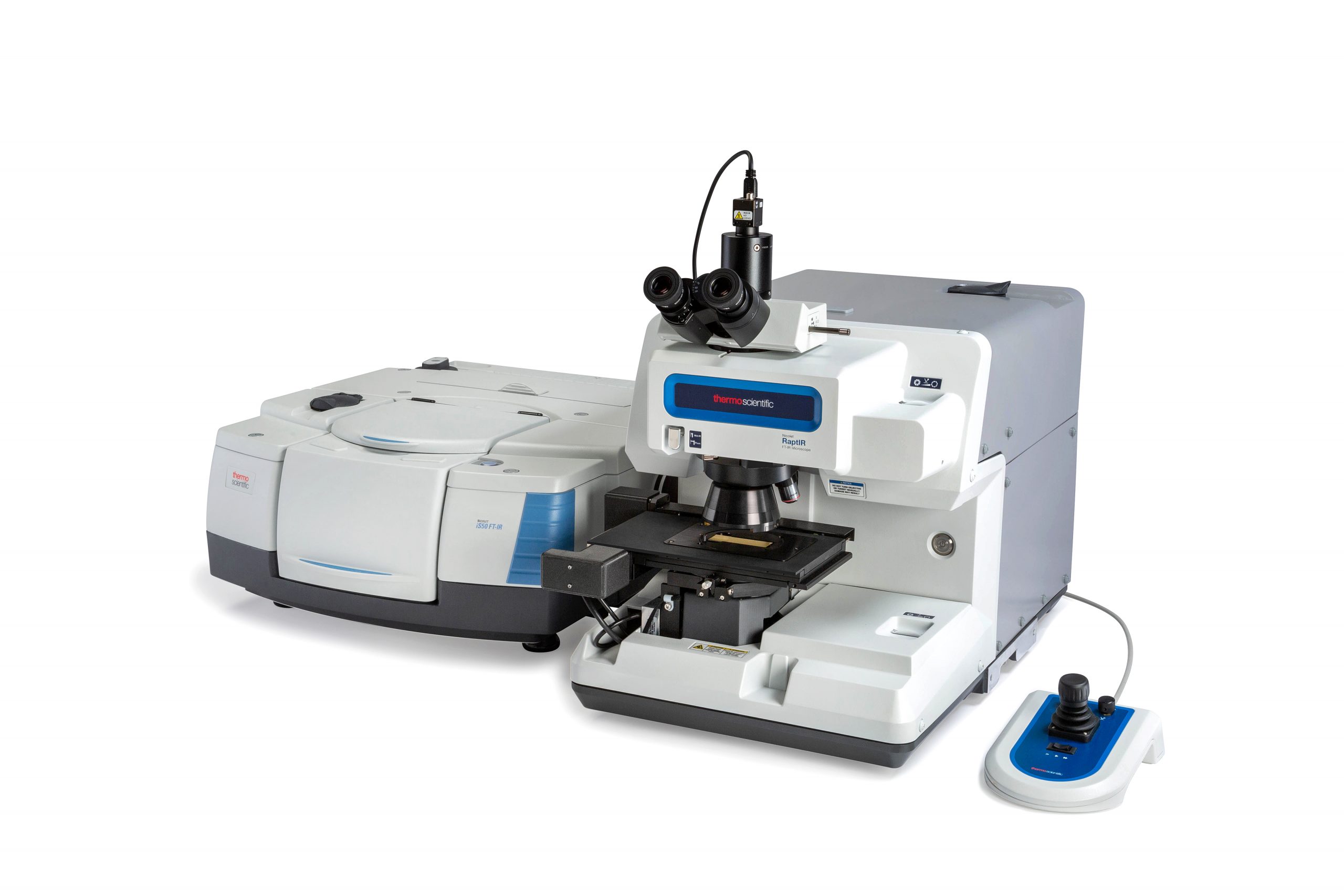 Key features of the instrument:
Diffraction-limited objectives provide outstanding visual and infrared performance.
Multi-position automated nosepiece, autofocus, auto illumination and full-view computer-controlled aperture for ultimate comfort and efficient ease of use.
Visual spatial resolution at 1 micron and infrared spatial resolution at better than 5 microns to obtain high-quality, high-resolution spectra of your sample.
Reflectance, transmission, and ATR sampling modes with automated exchange provide versatility, while a built-in ATR pressure sensor automatically tells you when there is ATR contact.
Open-access, heavy-duty stage to accommodate samples up to 40 millimeters thick and 5 kilograms in weight.
Fast results with mapping of up to 10 spectra/second.
Intuitive software
The innovative hardware features of the Nicolet RaptIR FTIR Microscope are complemented by the advantages of the Thermo Scientific™ OMNIC™ Paradigm Desktop Software. It provides users with clear guidance on how to extract information needed from the target. The software boasts a clean, adaptive user interface (UI), database security, floating tool bar, 64-bit system, and easily generated workflows to automate data collection and analysis sequences.
Applicability for microsamples across industries
Pharmaceuticals (API distributions and purity analysis)
Polymers and plastics
Environmental contamination (microplastics)
Forensics (counterfeiting and trace analysis)
Art restoration
Automotive materials
Contamination analysis in cosmetics and personal care products
Oil and gas
Electronics (OLEDs and PCBs)
Volcanology and mineralogy
Homeland security
3D printing
Cement and building materials
VIDEO: https://www.thermofisher.com/order/catalog/product/IQLAADGAAGFARMMBMN